Nowadays Canada and Germany are two of the most powerful economies in all the world.
These economies create strong commercial relations, that includes trade relations, investment, science and technologies.
Canada being the second economy in America (just behind the United States) and Germany is now the biggest economy in Europe.
In the European Union, Germany is the Canada's largest exportations market, but in the global scale Germany is the sixth-largest trading partner of Canada.
Other reason is that Germany holds a strong influence with its European neighbors and is expected to retain her influence and remains an anchor of the European stability.
EXPANDING EACH OTHER
This market creates $23.8 billion in 2018 for the both sides, $4.8 billion was Canada's exportations to Germany and $19 billion was Germany's exportations to Canada.
These exportations are important parts of diverse industries of Germany and Canada. Those industries are agriculture, food, aerospace, automobile, communication technologies, informatics technologies, biological sciences, and advanced manufactory.
The principal exportations of Canada are mineral ores (like zinc, copper, uranium), machinery (extractions or factories), electric and electronic issues (circuits), fuels, oils, scientific and precision instruments.
The German-Canadian trade services generates $5 billion in 2018, most of these services are travel and tourism services.
Germany is the eighth-largest foreign investor in Canada, and fifth among in the rest of the countries of Europe, with a stock of direct investment valued at $17.1 billion at the end of 2017. 
CANADIAN DIRECT INVESTMENT ABROAD
Germany is one of the most important markets for the Canadian direct investment abroad (CDIA).
Canadian firms held a stock of assets in Germany worth $12.3 billion at the end of 2017, making Germany the fourth-largest recipient of CDIA in Europe.
Beyond Trade and Investment, Canada and Germany enjoy a dynamic relationship in science, technology and innovation (STI).
Since 1971 the two countries became signers of the bilateral S&T Agreement there have been more than 1,000 joint research projects across the whole scientific areas of research and investigation.
These investigations projects bring together multiple concerned parts that creates benefits for the two countries
These Concerned Parts have a lot of designations for example: Governmental Areas, Institutes that have the objective of research, Universities, Non-profits and private sector entities. A lot of German national research institutes (Max Planck, Helmholtz, Leibniz and Fraunhofer) have established research partnerships with Canadian institutions that address the commercialization of research and development (R&D).
Also, a lot of German universities (for example Hamburg University, Berlin Free University, Munich Technical University, Berlin Humboldt University and TU Berlin) have a very good relation with Canadian Universities (for example Toronto University, Columbia University, McGill University, York University, Queen's University and Ottawa University).
REGULATION AND TRADE
Canada has a special commission to regulate all the trade missions and trade relations with all the countries, this commission's name is the Trade Commission Service.
The principal focus of the Trade Commission Services is on assisting Canadian firms looking for market opportunities in Germany, facilitating networking which may lead to the establishment of strategic economic alliances.
The Trade Commission Services team offers the full range of International Business Development programs in trade promotion, investment and science and technology.
Germany is a natural (and in a lot of ways the best) choice for inclusion in the business plan of any Canadian firms interested in international partnerships and opportunities.
It is one of the world's leading exporters, it hosts the world's largest trade fairs attracting businesses from all over the globe, it is a leading source of offshore investment, and it has a strong tradition of research and innovation.
Canada has signed a free trade agreement with the EU. The TCS in Germany can help Canadian companies to take advantage of the competitive edge offered by the Canada-European Union Comprehensive Economic and Trade Agreement (CETA). Germany is one of 28 gateways to the European Union (EU) – the world's second-largest market.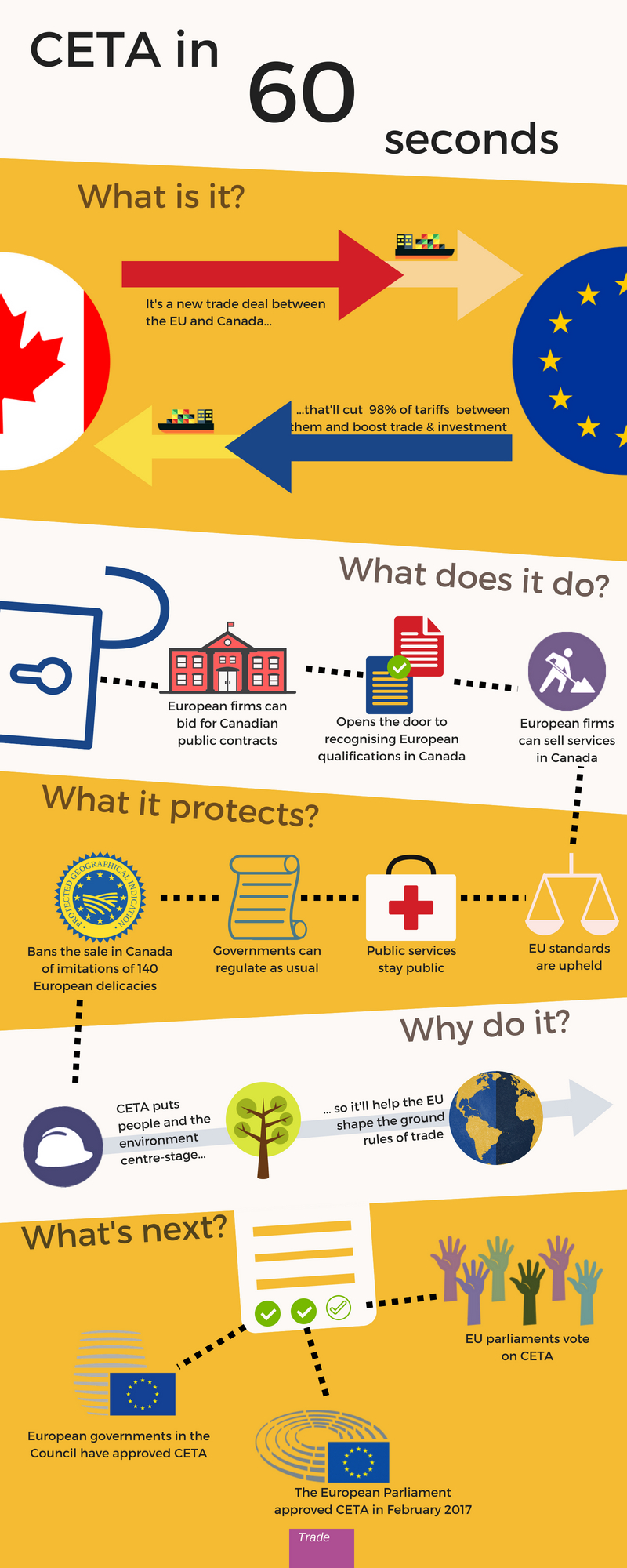 A BENEFICIAL DEAL FOR BOTH COUNTRIES
Since September 2017, Canadian and German businesses and citizens have benefitted from the provisional entry into force of the Comprehensive Economic and Trade Agreement (CETA), between Canada and the European Union.
The Trade Commission Services serve to all Canadian clients in all economic and industrial sectors.
Based on their knowledge and experience of the market, the following sectors offer the greatest opportunities for Canadian companies:
Aerospace
Agriculture, Food and Beverages
Automotive Industry
Cleantech
Diverse Consumer Products
Information and Communications Technologies
Life and Biological Sciences
Diverse Machinery & Equipment for a lot of Industries, including extraction and manufacture
Mining, Extraction and Refinery.
Services from the Canadian Trade Commissioner Service are offered free of charge to Canadian companies and organizations.
Now the Trade Commission Services don't cover all of Germany's territory, but the Commission covers the most important German provinces, provinces that show market and commercial interests for both governments and companies from both countries.
These provinces are Bayern, Berlin, Westfalen and Hamburg.
Also, the Trade Commission Services haves offices in the most important and economic-strategic cities of these provinces, Dusseldorf in Westfalen, Munich/München in Bayern, Hamburg in Hamburg, and Berlin, the German capital.